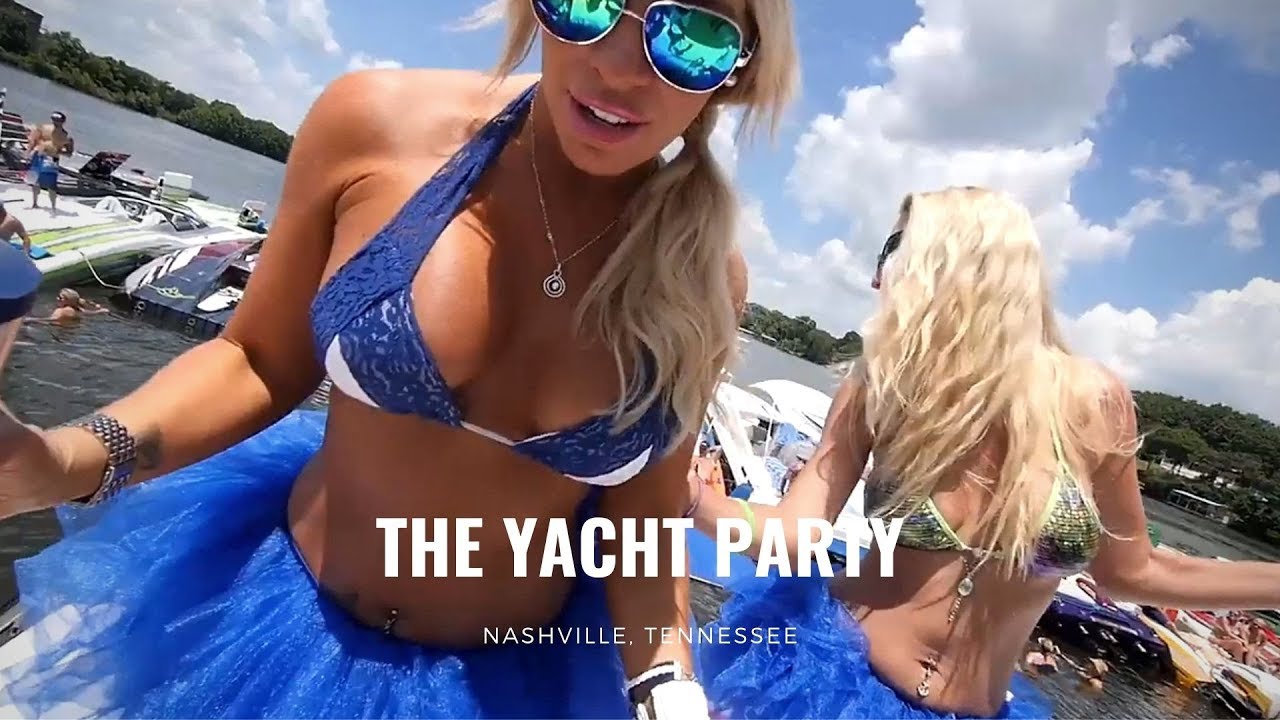 Nashville

Yacht Party, LLC
Bachelorette Parties! Private Charters! Tons of Fun




Bachelorette Parties / Bachelor Parties / OR A Lake Day With Friends & Family SWIM | CRUISE | CELEBRATE
Plan your private cruise aboard Nashville's most Fun party venue!

Don't settle for a "pontoon boat" with no room, no A\C and no bathrooms WHEN you can be on a real 43' yacht with A/C, bathrooms, & a frozen drink machine for the same price!
A unique & affordable way to spend part of your bachelorette weekend on Nashville's party lake, Old Hickory Lake.




FUN, SUN & TAN LINES!


Your dream bachelorette weekend awaits!


Ultimate BACHELORETTE EXPERIENCE Limo OR bus Transportation Available to & from Cruise available Each Cruise Comes With:
1) USCG Licensed Captain & Crew

2) 43' Yacht Air Conditioned Interior with GALLEY & TV's & 2 Bathrooms/Showers, 2 levels of viewing and sundecks

3) 3 person SeaDoo Jetski

4) TWO (2) PERSON Kayaks

5) 500 WATT Bluetooth Soundsystem

6) Frozen drink machine

7) 15' X 8' Patio Island Inflatable (2000# weight capacity)

Rates

$270/Hour - Yacht/Jet Ski/Kayaks

$220/Hour for Yacht Only

*-Minimum 2 Hour Rental

Reserve Your Cruise With A 50% Deposit

BYOB Alcoholic Beverages

We have a commercial frozen drink

machine and your guests can enjoy frozen

Bushwackers, Margaritas, or Daiquiris all

day! We also supply ice, cups, mixers

(please specify preferences), coolers,

snacks, at no additional charge.

Catering Available upon request And/or

Charcuterie Boards BY Dee


Each cruise is navigated by a U.S. Coast Guard licensed captain who, along with crew will ensure your group has a safe, yet FUN, adventure!
bachelorette party \ Hourly CHARTER Yacht, Jetski, & KAYAKS - 2FT BAY/PARTY COVE Experience Catering and/or Charcuterie boards available as an add on
NOTE : All cruises begin and end at Different docks/marina's on Old Hickory Lake depending on the convenience of the customer. at least 2 days prior to your cruise, each customer will receive detailed cruise pickup location information. -------------------------
Party Cove experience - SWIM - CELEBRATE - TAN -YACHT & KAYAKS ONLY & Frozen Drink Machine OR Old Hickory Lake Tour. a relaxing trip. see johnny cash's former home & others. Spring, Summer, or Fall. Enjoy Frozen Drinks in the summer or Baileys & coffee in the cooler months! CATERING AND/OR CHARCUTERIE BOARDS
AVAILABLE AS AN ADD ON
UPON ARRIVAL: CALL Or TEXT 615-448-7080 AND A CREW MEMBER WILL MEET YOUR GROUP AND ESCORT YOU TO THE LOADING AREA
Ultimate Bachelorette party OR ALL DAY CHARTER - 11AM-7, 12-8 PM, 2 PM-9 Limo (To/From) your Hotel to marina Yacht, Jetski, Kayaks - 2Ft Bay party cove, PLUS Deluxe Charcuterie Board
-4 cheeses
-assortment of charcuterie meats
-vegetables & fruits
-honey, jam, humus
-bread & crackers
Catering available
Voted Best yacht party in Mid TN
Reserve Your Yacht Party Now!
With a 43 Foot Yacht (A/C, 2 Full Baths, 2 TV's), A 3 person Seadoo Jetski, & 2 Kayaks...NO ONE PARTIES LIKE WE DO!
NYP was amazing! The staff was super nice and supplied us with everything they said they would and more! One of the best days my friends and I have had. Would definitely recommend!
We had a great time with the guys from "Nashville Yacht Party". Their 500W BT speaker was rocking with our music! Do the Jetski add-on! We took turns riding all day. So FUN! We did bring our own alcohol but they provide ice, cups, and snacks. So nice to have A\C, bathrooms, and showers on the boat! So much fun and was definitely one of the highlights in our vacation to Nashville! You must check these guys out.
The party was lit. The vibe of the people at Party Cove (2Ft Bay) was AWESOME! Our group got a little wild, but Capt Ken and crew kept an eye on us for the day. We partied hard and had lots of fun!